Spring Hill College baseball coach Frank Sims grew up in Charleston, Illinois, which would often prompt the same question: Is he a fan of the Chicago Cubs or the Chicago White Sox?
But Sims' reply was a bit of a curveball.
"I kind of grew up (watching) the Cubs during the day because they played mostly day games," the Badgers coach recalled. "At night, I'd listen to the Cardinals. I always kind of rooted for the Cubs because they didn't win as much as the Cardinals did. But I just loved baseball."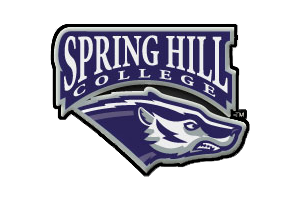 Sims' love of baseball put him on a path of coaching the sport. That path is nearing its end as the coach has announced that his 37th season at the Mobile college will be his last.
And in a career of milestones, Sims notched a huge one recently as he won the 1,000th game of his venerable career. That total – which includes 36 wins at Milton College – is at 1,003 following a next-game loss to Loyola (Louisiana) University and a three-game weekend sweep of Tuskegee University.
Reaching 1,000 coaching victories is an accomplishment the coach never considered until it was nearly within his grasp.
"That thought really didn't cross my mind until a couple years ago," he said. "We got to 900 and some and then someone said, 'Are you gonna stay around until you get 1,000?'
"I didn't enter the game to say, 'yeah, I'm gonna win 1,000 games and I'm gonna retire.' That wasn't it," Sims said. "It just sort of grew on me here. This was going to be my last year. I'm retiring anyway, this year, and I knew we had to have 20 wins to get it."
Win No. 1,000 came against West Florida on Tuesday, April 19 at Spring Hill's historic Stan Galle Field, a unique venue that features the school's administration building along the first base line.
The Badgers took a 1-0 lead through three innings, adding two runs in the fourth and another in the fifth before the visitors got on the board in the sixth. Spring Hill scored two runs in the sixth and the Argonauts matched them in the seventh but would get no closer for a 6-3 final.
Spring Hill starting pitcher Micah Morgan (2-0) helped his cause with a solo home run to right field in the fifth frame, his 15th homer of the year. Morgan is now just two home runs shy of the Badger single-season record of 17. He is just one RBI short of the SHC single-season RBI record of 66.
Life-altering decision
In his youth, Sims was a pretty talented ballplayer with a big arm who could hit a bit. He wore — and still wears — jersey No. 7 for his favorite player, Mickey Mantle. Baseball made him the only one of the eight farm-raised Sims kids who went to and graduated from college.
But there was another option. Sims was one of three players selected by the Pittsburgh Pirates from their tryout camp at Southern Illinois University.
"They said they'd be interested if I wanted to sign," he recalls. "Really, I was like 17 at the time; I was gonna turn 18 in about three days. I went home and told the family and they said, 'Naw, we think you're gonna go to college.'
"My family was really adamant that I go to college, so that's what we did."
The coach sometimes wonders where he would be had he taken the Pirates up on their offer. It would have changed his life, he said. Probably completely.
After playing at Lake Land Junior College and then pitching for the University of Iowa, he didn't want to give up life on the diamond. He played some semipro baseball and then in the Independent League before he turned to coaching.
Sims holds the record for most career victories (967) at Spring Hill and his tenure with SHC includes 27 seasons of 20 wins or more, seven 30-win seasons, two 40-win seasons and five conference championships.
The 2022 Spring Hill baseball team (31-12) will continue play into the postseason, at least in the Southern Intercollegiate Athletic Conference tournament and, perhaps, beyond.
But as his baseball coaching path approaches its end, Sims and his recently retired elementary school teacher wife, Dana, are looking forward to traveling, especially to see their two grandchildren on the West Coast and four on the East Coast.
A Caribbean cruise is on the calendar. And they've penciled in a trip to Cooperstown, New York, to visit the National Baseball Hall of Fame and Museum.
"She loves to travel and ride bikes, so that's what we're gonna do in a few weeks," he said, "after it's all done."
The coach admits there are aspects of his job – like washing uniforms and going to meetings – he won't miss. But there are things he's sure he will.
"I'll miss meeting the parents and then the kids themselves and recruiting," he said. "I'll miss the kids, the players, the coaches that I coach against. I've known a lot of them for years.
"There are things we never got to do before that we've got a chance to do now," Sims said. "If I stay busy, I'll be all right. But I think during the spring, I'm gonna miss it. I'll come up to the games. There's no doubt I'll be up to the games."