The Magic City Classic, the biggest historically Black college and university (HBCU) football game in the country, is back in Birmingham this coming Saturday for the 82nd year – and promises to be bigger than ever.
But for the city of Birmingham, the game between Alabama State University (ASU) and Alabama A&M University is just one facet of this monumental event, which is a weeklong celebration of rivalries, friendships, tradition, pageantry and everything that's special about HBCUs.
"Birmingham is a sports town, and the Magic City Classic represents everything we love about rivalries on the gridiron. But for us, it's more than a game," Birmingham Mayor Randall Woodfin said.
"Alabama is home to more historically Black colleges and universities than any other state. It's a statistic we cherish. When paired with our city's social justice heritage, the Classic is a continuation of that legacy. It represents great competition, great food, great fun and, most importantly, a celebration of HBCU culture."
Not only does Classic Week represent the pinnacle of intangibles like Black excellence, and the essence of Black competition and Black unity; it also delivers the tangible benefit of an estimated $23 million in economic impact to the city.
That impact is derived largely from the week of events leading up to the big game, including luncheons, roundtables, concerts, karaoke and good old-fashioned parties. This year's entertainment lineup includes Kirk Franklin, 8Ball and MJG, The Isley Brothers, Regina Bell, Shirley Murdock, T.I., Too Short and others.
The importance of the Magic City Classic to the city of Birmingham and the surrounding region is evidenced by the significant support of powerhouse national sponsors like McDonald's and Coca-Cola, as well as major regional sponsors like Regions Bank and Alabama Power.
"Magic City Classic offers a sense of connection and captures the full scope of the HBCU spirit," said Myla Calhoun, vice president of Alabama Power's Birmingham Division. "It's great for Birmingham because the Classic grows every year, and the city once again is vibrating with excitement. It brings together alums, fans and celebrities from around the country. It's more than a rivalry; it's a reunion."
Alabama Power's support of the Classic is only part of the company's and the Alabama Power Foundation's extensive and ongoing HBCU engagement. In 2023 alone, the foundation has granted more than $1.5 million to the state's HBCUs and their students.
As for how this year's Classic will engage the tens of thousands of people converging on the Magic City this week, here are some highlights of the multiple activities taking place leading up to the big game:
TUESDAY
Alabama Black Women's Roundtable Presents Its Annual Empowerment Luncheon: Featuring Jefferson County Commissioner Sheila Tyson and Hollywood Actor Darrin Henson at the BJCC East Ballroom – A &B, 2100 Richard Arrington Jr. Blvd., 11 a.m. to 1 p.m. Free.
The Birmingham Public Library's annual Classic Cocktails will be 5:30 a.m.-9 p.m. at the downtown library. It will feature a tasting of locally distilled spirits, music from DJ Chris Coleman of Birmingham's V94.9 FM, tailgate food, a 360-photo booth, specialty cocktails and some surprises! Event proceeds will fund programs at all BPL locations to help the library continue to provide high-quality services. Tickets are available through Eventbrite.
The Old School Magic City Classic Concert, presented by Jefferson County Commissioner Sheila Tyson, will be in the Birmingham-Jefferson Convention Complex (BJCC) East Ballroom. 6 p.m. Free. Featuring Bobby Rush, Willie Clayton, V.I.C., the "The Wobble Guy'' and DJ "Bad Boy Butch."
WEDNESDAY
The Magic City Classic Meet and Greet Day Party, presented by the West End Community and Jefferson County Commissioner Sheila Tyson, from noon-4 p.m. at the Arlington House, 331 Cotton Ave. Free food and drinks while they last. Call 205-325-5074 for details. Featuring DJ "Bad Boy Butch."
The Magic City Classic Kickoff Networking Event – Rooftop Edition at Cantina's in the city's Uptown entertainment district, 2301 Richard Arrington Jr. Blvd., 6 p.m.
Battle of the Choirs: Featuring choirs from Alabama A&M and Alabama State universities, 6 p.m. at Sardis Missionary Baptist Church, 1615 – 4th Court West. Free.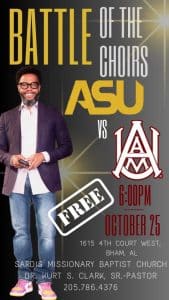 THURSDAY
Kirk Franklin's Reunion Tour at the BJCC Legacy Arena, 8 p.m. Ticketed event.
Magic City Classic Tailgate Festival: Featuring T.I., Too Short, The Sugar Hill Gang, Logan The Entertainer, Sherri Brown and food trucks at Railroad Park. Free. Pre-show at 5:30 p.m. Show starts at 6 p.m. Bring your lawn chair. Call 205-431-7781 for more information.
8Ball, MJG and Friends will appear at the Magic City Classic Block Party in the Avondale District, 101 – 40th St. South. Gates open at 7 p.m. Tickets available on Eventbrite. For more info, call 205-202-6290. Hosted by Detroit Reid. Special guests: Project Pat and Tela.
FRIDAY
City of Birmingham's Awaken Event, honoring the Carlton Reese Memorial Unity Choir, will be at the Birmingham Museum of Art. Doors open at 9:30 a.m. Event starts at 10 a.m. Free. Area choirs will perform to salute this legendary choir, which organized in 1959 to provide strength through music during the civil rights movement.
A Classic Food Truck Block Party, in front of Birmingham City Hall from 11 a.m. to 2 p.m. Featuring a DJ and popular Birmingham food trucks. City Hall's address is 710 20th St. North.
Magic City Classic Takeover – A Homage to Hip Hop from 9 p.m. to 1 a.m. at 1623 Second Ave. North. Presented by the ASU Jefferson County and Shelby County alumni.
SATURDAY
Magic City Classic Parade in downtown Birmingham at 8 a.m. Visit www.magiccityclassic.com for the route.
Magic City Classic Pre-game Tailgate Party from 10 a.m. to noon at Legion Field. Different sponsors will be in the westside parking lot.
Magic City Classic Football Game at Legion Field. Gates open at 12:30 p.m. Kickoff is at 2:30 p.m. Remember the clear bag policy will be strictly enforced. Everyone must have a ticket to enter, including children.
SUNDAY
The Showband Battle of the Bands at 3:30 p.m. at Protective Stadium, 1020 24th St. North. Bands include ASU, Mississippi Valley State University, Tennessee State University, Alabama A&M University, Texas Southern University and Alcorn State University. Visit Ticketmaster for tickets.
The Classic Finale: Dipp'd & Dripp'd, featuring Paul Anthony designs and customized hats from Chapeaux Trends. Music provided by Ampliphied Noiz Band, starting at noon. Tickets available on Eventbrite. Presented by Bodega Cigar and Cocktail Lounge, 3401 Fifth Ave. South.
Nancy's Soul Food Sunday All-Black Affair, featuring High Energy Band, 3 p.m.-7 p.m. Woodrow Hall, 5540 1st Ave. North. Admission charged.
For more information and a full list of this week's events, visit the city of Birmingham's Magic City Classic events page.