Renew Our Rivers volunteers are hoping in 2022 for the first full year of the campaign since the pandemic began, with 32 cleanups set from February through November.
"We are hopeful and optimistic that we can get back to a normal schedule for 2022," said Mike Clelland, statewide ROR coordinator.
"Even though the pandemic was still affecting many people in 2021, several groups were still able to get out and have cleanups on our waterways," he said.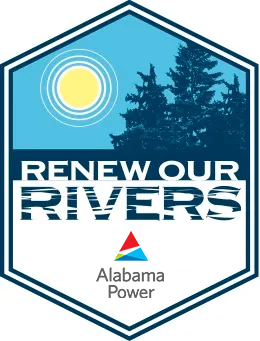 While Alabama Power didn't directly participate in cleanups last year, Clelland said the company provided T-shirts and supplies to all volunteers, as in previous years. He said more than 1,100 people helped remove nearly 100,000 pounds of trash and debris from Alabama waterways in 2021.
The Friends of Lake Eufaula (FOLE) was among organizations that forged ahead with cleanups this past year. Coordinator Brad Moore said about 80 volunteers helped with the 16th annual cleanup on Oct. 16, 2021, at Old Creektown Park and out of the Thomas Mill boat launch.
"We were very fortunate to have such a great day to get volunteers around the shoreline," Moore said. "About 2,000 pounds of trash was collected that had washed up around the lake shoreline."
FOLE volunteers included the Wallace Community College Student Government Association, American Buildings, U.S. Coast Guard, Lakeside School, St. James Episcopal Church and many individuals. Following a morning of collecting trash, the volunteers were treated to a lunch sponsored by Phil's B-B-Q. Other cleanup sponsors included the Eufaula Parks and Recreation, U.S. Army Corps of Engineers and Coast Guard.
The Eufaula volunteers received a T-shirt printed with a scene painted by Morgan Baker, who was the winner of the FOLE environmental art contest, for which she received the $50 prize. Shelby Montgomery found the "Most Unusual Piece of Trash" – a fishing pole stuck to netting holding a baseball and golf ball. She won a Jetboil camping stove donated by Humminbird.
Moore said his group took many precautions to avoid the spread of COVID-19, including preassigning volunteers to shoreline areas rather than having them congregate at a home base, as in previous cleanups. Volunteers did not board pontoon boats as in the past, but some families chose to travel by that method. Masks were required for volunteers working close to each other. Rather than having a traditional seated lunch to celebrate the cleanup, boxed meals were distributed, Moore said.
The final 2021 cleanup involved more than 350 volunteers who picked up about 6,000 pounds of trash around Lake Martin. Longtime coordinator John Thompson said past cleanups have often produced more than 40,000 pounds of trash and up to 800 tires, an indication of the progress in reducing trash over time.
"Because of higher water levels and cold, blustery days, most of our volunteers concentrated efforts on public launch ramps and roads surrounding the lake," said Thompson, who is president of the Lake Martin Resource Association. "It was the most comprehensive cleanup we have ever experienced in the 18 years that LMRA has sponsored this event. This was different because we are no longer finding the large items, tires and big pockets of trash on the lake."
Thompson said the two-day event was "a huge success," with major assistance from Lake Martin Area Realtors, Chuck's Pizza and many other lake-area businesses and homeowners. Their goal for 2022 will be determining how to control trash thrown out beyond the shorelines.
"We are having a big problem with roadside litter on all roads leading to and surrounding our treasured lake," Thompson said. "As we all know, not only is this unsightly but much of this washes into the lake during heavy rainfalls."
Renew Our Rivers began in 2000 as a community river cleanup organized by Alabama Power employees at Plant Gadsden who were concerned about littering along the Coosa River. Today, Renew Our Rivers is one of the nation's largest river system cleanups. With the help of community partners, volunteers and organizations, Alabama Power has coordinated about 120,000 volunteers and removed more than 16 million pounds of trash from Southeastern waterways.
---
2022 ROR Schedule
March 5: Valley Creek (Adger, Birmingham, Bessemer and Lipscomb)
Contact: www.jcdh.org/wpd
March 5: Lake Eufaula (Chattahoochee River)
Contact: Brad Moore at bmooreless@gosuto.com
March 12: Valley Creek (Oak Grove)
Contact: www.jcdh.org/wpd
TBD: Valley Creek (Providence)
Contact: www.jcdh.org/wpd
March 22-23: Mobile River (Plant Barry)
Contact: Jeff Reeves
251-829-2746
March 26-April 2: Logan Martin (Coosa River)
Contact: Bud Kitchin
256-239-0242
March 26: Minor Heights Community at Village Creek
Contact: Hana Berres
205-325-8741
April 2: Lay Lake at Plant Gaston (Coosa River)
Contact: Jodi Webb
205-669-8360
April 2-10: Lay Lake (Coosa River)
Contact: Judy Jones
205-669-4865
April 22: Smith Lake (Cullman County)
Contact: Jim Murphy
205-529-5981
April 23: Lake Jordan (Coosa River)
Contact: Brenda Basnight
334-478-3388
April 28-29: Smith Lake (Winston County)
Contact: Jim Eason
April 30: Weiss Lake
Contact: Sam Marko
404-626-8594
May 7: Lake Mitchell (Coosa River)
Contact: Dale Vann
205-910-3713
TBD: Plant Gorgas (Mulberry Fork)
Contact: John Pate
205-686-2324
May 17-18: Smith Lake (Walker County)
Contact: Roger Treglown
205-300-5253
Aug. 6 (tentative): Holt Lake (Black Warrior River)
Contact: Becky Clark
205-799-2449
TBD: Upper Tallapoosa River
Contact: Lex Brown
256-239-6399
Aug. 12: Plant Miller (Locust Fork)
Contact: Marybeth Vines
205-488-2033
Aug. 13: Valley Creek (Fairfield, Midfield, Hueytown, Pleasant Grove and Brighton)
Contact: www.jcdh.org/wpd
Sept. 9-10 (tentative): Village Creek
Contact: Yohance Owens
205-798-0087
Sept. 16: Smith Lake (Cullman County)
Contact: Jim Murphy
205-529-5981
Sept. 20-21: Smith Lake (Walker County)
Contact: Roger Treglown
205-300-5253
Sept. 22-23: Smith Lake (Winston County)
Contact: Jim Eason
Sept. 26-Oct. 1: Neely Henry Lake (Coosa River)
Contact: Lisa Dover
256-549-0900
TBD: Lake Demopolis
Contact: Jennifer Cassity
Oct. 4: Dog River (Mobile County)
Contact: Catie Boss
251-829-2146
Oct. 15: Lake Mitchell (Coosa River)
Contact: Dale Vann
205-910-3713
Oct. 25-27: R.L. Harris (Tallapoosa River-Lake Wedowee)
Contact: Sheila Smith
205-396-5093
Marlin Glover
770-445-0824
Nov. 4-5: Lake Martin (Tallapoosa River)
Contact: John Thompson
334-399-3289